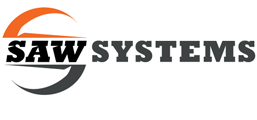 Saw Sharpening
Call us about your blades and shaping tools

Saw Systems sharpens all types of blades, high speed steel and segmental (HSS Segmental): circulars, carbide tipped, router bits and planer/jointer knives.  We provide top quality saw sharpening for all commercial and industrial applications, keeping your saw blades cutting at - or above factory – tolerances again and again!  Best yet, we offer our state-of-the-art service at competitive pricing.  Call us and get ready to be pleasantly surprised!
• Circular saw blade sharpening - We sharpen:
• Segmental blades up to 55"
• Carbide blades up to 45"
• HSS blades up to 24" with all tooth patterns
• Shapers and cutters
• Router bits, planer, jointer knives, etc.
Need more information on sharpening other blades? Call us about planer and jointer knife, router bit and shaper cutter sharpening.
When you purchase 10 or more of our new, quality saw blades, you will receive a coupon for 20% off your next sharpening.