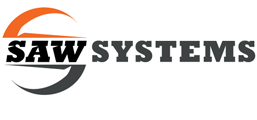 New Saw Blades
Bandsaws, Circular saws and more...

Saw Systems offers a wide selection of new cutting tools with regional pickup and delivery service, as well as UPS delivery outside our service areas.
Band Saw Blades: Welded to length
• Amada
• M.K. Morse
• Roentgen
• Wikus
Welded to Length Band Saw Blades: From 1/2" to 3 1/8"
• M42
• M51
• Carbon
• Matrix
• Carbide Tip
• Carbide Tip with coatings
• Specialty tooth configurations
Circulars: Circular Saw Blades
Metal Cutting Blades
• High Speed Steel
• Carbide
• Segmental Blades
Wood Cutting Blades
• Carbide Tip Circulars
• Router Bits
• Custom Insert Tooling
If you're looking for other brands or are not sure what blade is best for your needs, call us.