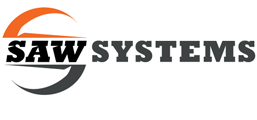 Abrasives
Belts, Discs, Pads, Sheets, Sponges, Wheels for all purposes

Saw Systems sells coated abrasives (sandpaper) and bonded abrasives like grinding wheels and polishing stones. Coated abrasives have one or more layer of abrasive coated on a belt, disc or sheet, while bonded abrasives have the abrasive grains bonded in a resin or binding agent to form a wheel or stone.

Both can be configured as (belts, discs, sheets, wheels or stones) but also by the abrasives they contain, including aluminum oxide, silicon carbide, alumina zirconia, ceramics, garnet and even industrial diamonds.
Abrasives We Carry
Abrasive belts
Saw Systems offers a full line of coated, abrasive belts for sanding, grinding, deburring, blending, finishing and polishing applications. Different combinations of minerals, resins and backings result in the right product to meet your needs for use on wood or metal surfaces.
Aluminum oxide belts
With their economical price and versatility, Saw System's selection of aluminum oxide belts are a great choice for shops the do everything from roughing to finishing on wood, soft metals and even hard-to-grind stainless and carbon steel.  Silicon carbide and ceramic grains are also available upon request.
Zirconia belts
Zirconia offers sanding belts that almost match the hardness of diamonds. This high-quality material is extremely durable for use on metal, fiberglass and hard woods. It is also used to plane rough sawn lumber or for roughing out projects. Ask Saw System for belts with heavy cloth backing and taped butt joints. Wide belts ara also available – just ask!
Ceramic belts
Ceramic belts offer about 25% more durability, wearing better on steel than zirconia-alumina belts. Many of the belts Saw Systems offers use cryolite as a grinding aid for reduced friction and less heat. Ask for belts with rugged cloth backing and no-bump, taped butt joints.
Abrasive discs
Saw Systems carries abrasive discs for use in blending, finishing polishing and stock removal applications.  Different mixtures of several minerals, resins and backings result in the best selection of products to meet your requirements.  Abrasive discs can be used on most woods, metals, painted substrates, composites, gel coats or hard‑to‑grind materials.
Aluminum oxide discs
Saw Systems carries top-quality A/O discs made with a durable, long-life Aluminum Oxide sandpaper abrasive that is fast-cutting and resistant to loading.  We offer a variety of precision cut disk sizes, including the popular 12" open coat abrasive. 
Zirconia discs
Zirconia flap discs and wheels grind and finish in one step.  This reduces finishing time and finishing costs. Zirconia flap discs are for use on steel and can be helpful for delicate operations such as dental work.
Hand pads
Industrial uses for hand pads include defuzzing, deburring, scuffing paint, cleaning and finishing.  We provide a complete offering of hand pads, from non-abrasive polishing pads to aggressive, heavy duty cleaning pads and stropping pads.
Hand pads are made from a nylon fiber web (not woven) that can be coated or impregnated with abrasive grain and bonded with synthetic resins.  Hand pads are tough, resilient and capable of resisting snagging or tearing. They can be used wet or dry, will not oxidize (rust) or cause metal contamination.
Abrasive sheets (sandpaper)
Saw Systems offers a wide line of abrasive sanding sheet products, from 3X High Performance sheets to general purpose and traditional sandpaper. 
Webrax
Webrax abrasive web belts help you create a special, mirror finish for metal surfaces.  The finest possible surfaces with defined roughness values are a prerequisite for producing satin finishes or high-polish surfaces.  Webrax abrasive web belts are used for the decorative finishing of stainless steel and special applications or downstream steps such as galvanizing or anodizing.
Sanding sponges
Sanding sponges are a relatively new coated abrasive application for hand sanding. Most sponges contain an aluminum oxide mineral bonded to a foam pad via a waterproof system. These soft foam sponges are coated with a sanding abrasive on three sides of each block. Woodworking product designed for contour and flat sanding.  Also excellent for sanding curved, contoured, or flat surfaces of wood, metal, paint, plastic, ceramics, and drywall.  Can last 5-times longer than sandpaper. They resist tears and are washable, for a longer life - just rinse and reuse.
Narrow belts
Narrow belts come in a wide variety of sizes and grits for most dimensioning, intermediate grinding and polishing applications.  Saw Systems can provide sanding belts for virtually any size belt sander.  These belts are excellent benchstand and backstand belts for grinding and deburring metals, heavy stock removal, blending, dimensioning, shaping and polishing.  Centerless, conveyor and platen belts are perfect for intermediate grinding of stainless and carbon, moderate-pressure applications, dimensioning and finishing.   Ceramic Alumina, Zirconia Alumina and Aluminum Oxide coatings are available in a wide variety of widths and lengths.
J weight belts
Flexible abrasive sanding belts ideal for use on steel, soft metals or stainless steel. Premium weight belts have a heat-treated grain that allows sharper cutting and more consistent finishing. Especially suited for sanding contours or curves.  Most J belts are for dry grinding only.
Wide belts
Saw Systems has stock cloth and heavy paper sanding belt products to meet wide belt sanding needs in the woodworking and metalworking.  Typical applications for cloth wide belts include: General metalworking, plate dimensioning, slag grinding, machining, deburring and abrasive planing and dimensioning of particleboard.  Applications for heavy paper wide belts are Woodworking (close tolerances and quality finishes), intermediate wide belt sanding, Upgrading the finish of raised panels, doors, face frames, drawer fronts, etc., veneered panel sanding and sealer sanding.
Resin fiber discs
Saw Systems can provide industrial resin fiber discs, excellent for sanding a variety of materials.  Resin fiber discs can be attached to right angle disc sanders. They are most often used for heavy weld removal and other grinding and deburring applications.
Flap wheels
Coated Abrasive flap discs and flap wheels are designed for blending, light grinding, graining and scale removal on many metals. Abrasive flaps offer a long-lasting supply of useful abrasives and a load resistant design. Available in both flange mounted and spindle mounted constructions with general purpose aluminum oxide or high performance Ceramic Aluminum Oxide blend abrasive grits.
Back up pads
High-performance disc backup pads equalize pressure in sanding, grinding, polishing and surface preparation.  Call us for AVOS, cloth, fiber, MultiAir, paper, and Speed-Lok sanding and grinding discs. For longer back-up pad life, choose the right back-up pad for your specific application.
Shur-kut
The patented revolutionary new tool that puts an error-free guide at the torch tip. Shur-Kut saves the time the welder otherwise would spend doing arithmetic. It even eliminates the job of marking out the pattern before cutting begins. Latch the Shur-Kut onto the pipe, follow Shur-Kut's precision outlines and bevels and fly through the most intricate patterns. What you get is an exact, beveled, slag-free cut as you save minutes, material and money. Shur-Kut is made to last a lifetime and is available at major welding supply stores.  Shur-Kut tools are available from 1 ½" through 3" sizes.
Quick change discs
Abrasive quick change locking discs with Type 3 roll-on attachment, Aluminum Oxide, Zirconia, Ceramic and Non-woven options. Use for stock removal, finishing, deburring and blending of metal and other materials. Type 3 has a male attachment. Type 2 locking disc can be special ordered as well as finer grits and custom sizes in 1-1/2" and 4".
Polishing discs
Polishing discs come in a variety of abrasive grits, allowing for gentle polishing an exacting results – from high-precision applications to dental work.  Call us with your specifications!
Surface conditioning belts
Used for cleaning, blending, finishing and deburring. The reinforced backing offers good flexibility. Non-woven belts can be used in place of coated sanding belts when a finer grit is needed. Our low-stretch materials will not slacken with use, providing a return on investment via decreased downtime. Surface conditioning belts are popular for food processing, knife making and stainless steel applications. These belts work great when used on Portable Sanders, Dynafile Sanders and Backstand Grinders. Saw Systems offers different sizes to choose from. Each size is available as Coarse, Medium and Very Fine.
Surface conditioning discs
2, 3, 4, 5, 7 and 8 inch non-woven, three-dimensional discs for cleaning and scuffing marine metals. Surface conditioning discs provide a burr-free surface suitable for painting or coating. Can be used for removal of light rust, oxides, coatings and gaskets.
Convolute wheels and Deburring wheels
Non-woven, surface-finishing wheels are formed by wrapping an abrasive, grain-impregnated webbed material and resin around a center core.  Durable, one-piece aluminum reducing bushings are available for a variety of wheels.  Typically used on stationary machinery and available in diameters from 4 to 24 inches and widths between 1/2 and 42 inches. Used for a variety of applications including heavy burr removal, standard deburring, radiusing edges, finishing, cleaning and blending of metals and other substrates. Convolute wheels offer a wide range of uses from to cleaning rust and oxides.
Unitized wheels
High performance wheels are used for cleaning, polishing, deburring and finishing metal, plastic and wood.  Saw Systems offers mineral-impregnated, non-woven web material filled with a foam or a 3 dimensional non-woven web and abrasive mineral in a layered construction. If you have other requirements, just ask!
Type 27 grinding wheels
Type 27 wheels are made for use with large angle grinders.  They come with a depressed center wheel for grinding and are designed for use on flat surfaces for weld preparation, aluminum oxide grain cuts high-tensile strength materials without much fracturing.
Cut-off wheels
Abrasive cutoff wheels easily slice through ferrous metals and stainless steel.  Resin-bonded, abrasive cut-off wheels and grinding discs are used on wide range of materials, including metal, stone and concrete.
Abrasive products
Call Saw Systems with your questions about coated and non-woven abrasives, discs, wheels, belts, sponges and more.
Hook & loop
Hook and loop sanding discs are quickly and easily installed and removed – just like Velcro®, just pull them off and replace them. Saw Systems' hook & loop sanding discs come in diameters from 1 3/8" up to 36"; grades from extra-coarse 9 micron to ultra-fine 1500 grit.  Choose from cloth, film, paper, synthetic resin, waterproof cloth and waterproof paper backings.
Abrasive rolls
Abrasive rolls, in both spiral roll and cartridge roll formats, include abrasive cloth rolls in a wide selection of grits and sizes. Aluminum oxide-coated material provides a flexible method of hand sanding, especially in metalwork. Saw Systems can get you the spiral roll and cartridge roll abrasive cloth you need.
Wire de-burring
Saw Systems carries a variety of industry standard wire brushes for deburring anything from stainless steel to aluminum.  We carry wire brushes with diameters from 8" to 16", with face lengths from 1/2" wide to a 36" long and a wire diameter from .007" to .020" knot style wire.
Call Saw Systems for the following machines: 
Abrasive saws, disc sanders, Vibratory finishers, dust collectors, Cut-off saws, wet abrasive saws, bench top cutoff saws, semi-automatic wet cut off saws, non-ferrous miter saws, abrasive mitering saws, combination sanders, disc sanders, manually held deburring machines, horizontal belt sanders, Vertical belt sanders, belt grinders, back stand grinders, sanders, Belt sanders, Pedestal Grinders